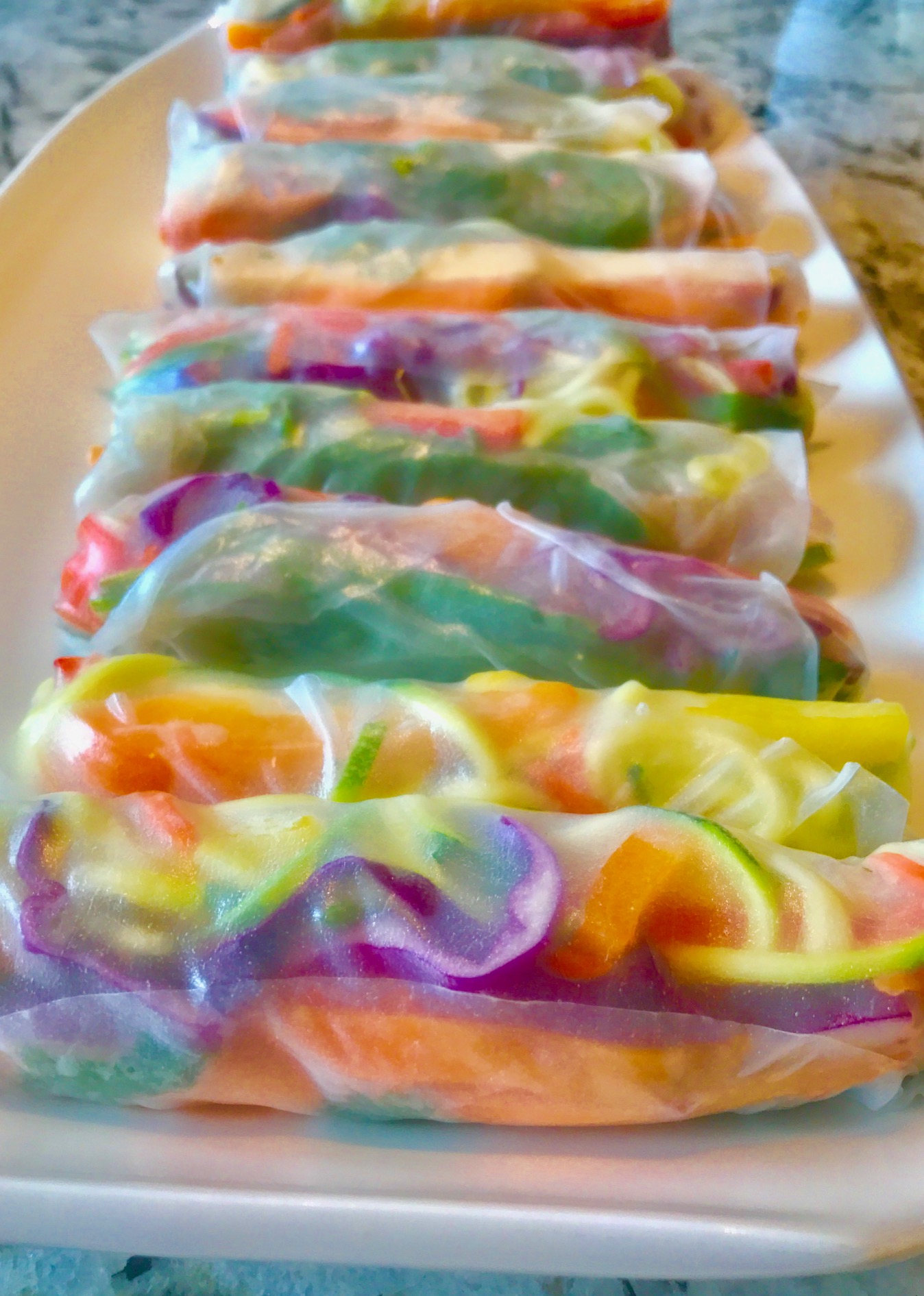 Summer Thai Rolls
Made with Rice Paper a Spicy Lime Sauce
Rolled a few today! Summer rolls are a great party food. So colorful with lots of textures and flavors which makes me so happy! Besides all the veggies, I added in crispy tempeh, herbs (cilantro, basil, and mint) and noodles. Some with udon noodles and a few with zucchini noodles).
Here is what you need:
Round rice paper sheets – you can now pick these up in most grocery stores including asian and health food shops.
A bowl with warm water wide enough to dip in the sheets easily
Filling-
Thin noodles-they can be rice, udon, soba, or regular pasta just cooked according to package instructions
Carrots, cut into matchsticks
Napa cabbage and red cabbage, very thinly sliced
Scallions, sliced lengthwise very thinly
Bean sprouts
Herb leaves: basil, cilantro, and mint
Ripe avocado, sliced
Pan-fried tofu or tempeh
Black Sesame seeds to sprinkle on to top of veggies - optional
Option: maybe some ripe and thinly sliced fruit like mango
Here's how:
Set up a bowl of water, noodles laid out flat, separate bowls of veg and herbs and a platter to place finished rolls on. Roll and fill the rice paper sheets out on a large cutting board. Now you are ready to begin, working with one sheet at a time.
Dip one rice paper sheet into the warm water getting it completely wet and take it out immediately and put it on your cutting board.
At the end closet to you, lay out flatly some basil, cilantro, and a mint leaf. Leave a couple of inches of space clear on either side.
Now layer in some noodles going horizontally across sheet.
Layer in veggies of choice.
Start rolling up, holding ingredients in place to make a tight roll, tucking in the side flaps near the beginning. Roll all the way up and place the finished roll on the platter.
The rolls should be eaten soon after you make them. But, to help them not dry out, slightly dampen a tea towel and gently place on top.
Dipping Sauce:
1-2 garlic cloves
1 teaspoon toasted sesame oil
¼ cup good quality almond or peanut butter
1-tablespoon fresh ginger, grate it and squeeze out juice
3 tablespoons fresh lime juice
2 tablespoons, tamari or soy sauce
2 tablespoons brown rice syrup or maple syrup
option: for a sweeter sauce, add a tablespoon or two of apricot preserves
A dash or two of sirracha sauce -optional
Up to 3 tablespoon of water to thin out for the right consistency
Whisk or blend together. Serve with summer rolls
Nori-Nut Crunch
I found this recipe in Jessica Porter's cookbooks The Hip Chick's Guide to Macrobiotics and The MILF Diet and have been happily making batches ever since. It has many of the favorite things you want in a snack – salty, sweet, and nutty. Because it is made with a sea vegetable, nori, it also has its fair share of minerals that we can all use.
Serves 6
Ingredients:
2 tablespoons Avocado oil
½ cup maple syrup
1 cup sliced almonds*
*(I often use more nuts. True confessions. You are welcome to use more restraint than me. I use the following: 1 ½ cups nuts – and often a combination, such as cashews, almonds, and pecans)
1-cup organic sesame seeds (you can just use the tan sesame seeds or use half tan and half black sesame seeds.
5 or 6 nori seaweed sheets, torn into little pieces
1-teaspoon shoyu(soy sauce) or tamari sauce
Directions:
Preheat the oven to 350 degrees F.
Pour the oil and the maple syrup into a large skillet.
Bring to a frothy boil, and add the nuts; stir and add the sesame seeds and nori pieces.
Sprinkle in the shoyu.
Continue stirring until everything is coated. Pour into one layer on a baking sheet, or onto parchment paper on a baking sheet.
Bake for 10- 12 minutes. Let cool and eat.
Make sure it is completely cooled off before storing it away.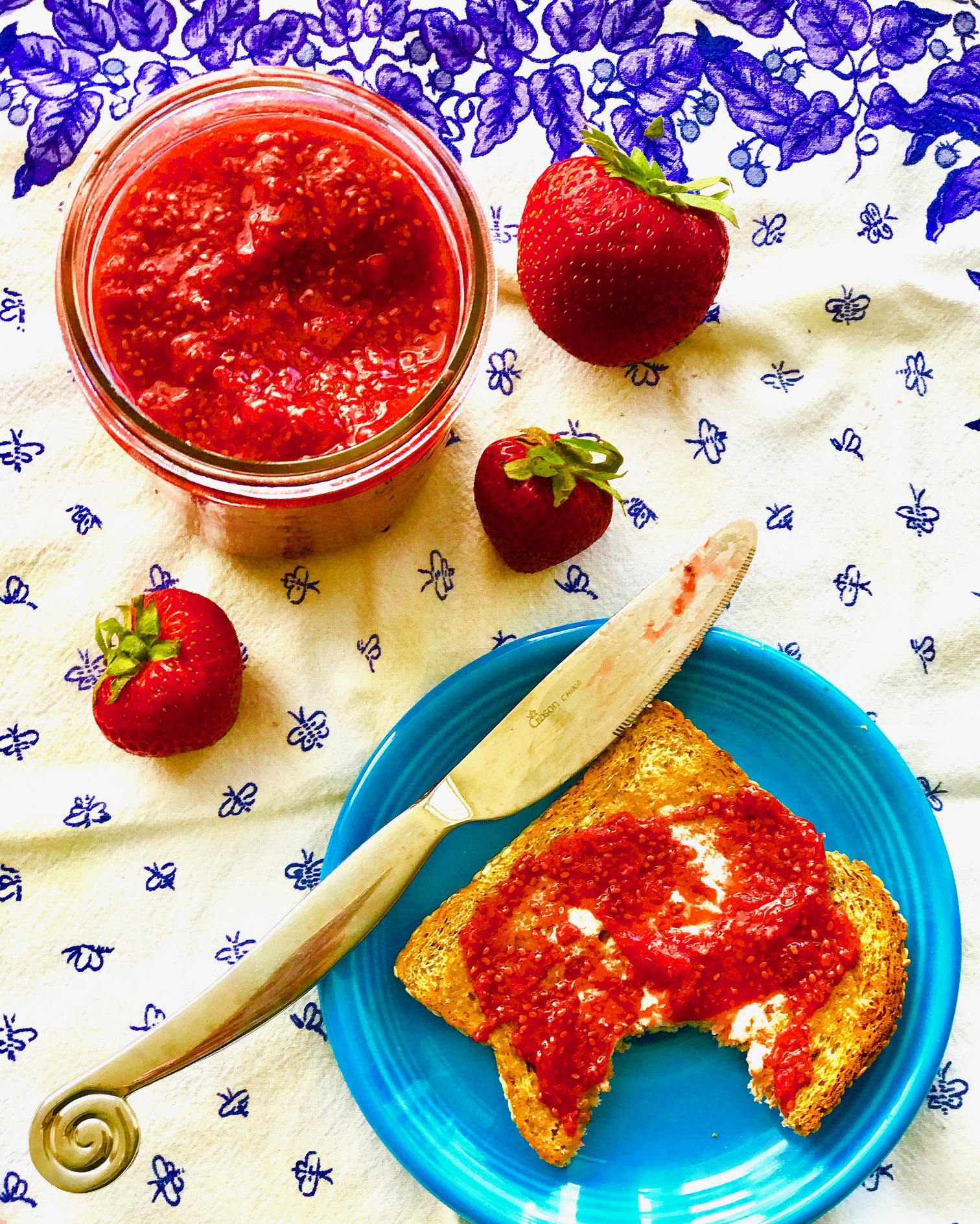 Bought a lovely sweet and very ripe mountain of organic strawberries yesterday. So a quick and easy chia strawberry jam was on my things to do list last night.

This quick jam is so intensely berry flavored and not overly sweet. Plus, it certainly dressed up my Food for Life Baking Co. sprouted wheat toast with Miyoko's Kitchen cultured butter this morning! You can use any berry you like.
Chia jam
Makes 1 cup
Ingredients:
*3 cup strawberries- I pulsed the hulled berries in the food processor but left it a bit chunky for texture
*3 tablespoons maple syrup or brown rice syrup
*2 tablespoons chia seeds - I used white chia seeds that I found at Whole Foods Market but regular black chia seeds work just fine
*1 teaspoon vanilla extract
*A squeeze of lemon or lime juice
*A tiny pinch of cinnamon
Directions:
1. You can use frozen strawberries just thaw them out. Place berries in a food processor and pulse until almost smooth but leave some chunky bits.
2. Place the berries and sweetener in a pot and simmer for about 5-7 minutes
3. Now add in the chia seeds and cinnamon and mix well. Continue to simmer giving it a good stir every couple minutes. The mixture will start to thicken at about 10 minutes
4. Remove from the heat and squeeze in the lemon or lime juice - maybe 1/2 -1 teaspoon and the vanilla. Stir well.
5. Let it cool and continue to thicken and then place into a jar with a lid.
6. You just made jam! Keep in the fridge. It should last up to 10-14 days.
Chocolate play-doh!
chocolate truffles In minutes
Ingredients:
6 organic Medjool dates. Remove the pits. Works best if dates are fresh and moist. If they are a bit dry, just soak them in water until soft.
1 big tablespoon of almond butter (raw or roasted) You can also use any favorite nut butter that you love.
1 big tablespoon of raw cacao
Quick Easy Steps:
1. Place the dates in a bowl. Now add the nut butter and raw cacao.
2. Gently begin to massage and knead all the ingredients. Very quickly, the "dough" will come together. I am always amazed!
3. Break off a small piece and roll it between your palms to make a little ball.
Option: You can also knead in some crushed nuts, chopped small dried fruit pieces, coconut flakes, or hemp seeds.

Option: Once you make your truffles, you can roll them in more of the cacao powder, cinnamon with a dash of cayenne, crushed nuts, crushed coconut flakes, or crushed candy canes. Roll the truffles in whatever your little heart desires. Play with your food and have fun!
I have been craving a sea vegetable dish made with arame, carrots, onion, and sweet corn. When I am craving something like a sea vegetable (as opposed to a hot fudge sundae) I always try to really listen to what my body is asking for and come through for the dear ol' bod. Seas veggies contain lots of minerals so maybe I am running a bit low. The minerals in arame are great for hair, bones, skin, and nails. All of the above for me could do with some help plus this dish is easy to put together and tastes sweetly divine.

If you have been considering adding a sea veggie to your food repertoire, arame is a lovely mild tasting ocean vegetable that has thin, delicate strands. It works beautifully with sweet vegetables like corn, carrots, and onions. My husband loves this dish. You can find arame in most health food stores and even in many grocery stores. Please give it a try! Your hair, bones, skin, and nails will love you for it. Me, too!
Cheers.

Makes enough for 3 side dish servings
Ingredients:
Arame – I used a handful (you can use a bit less).
Onion – 1 cup diced or cut into half-moon slices
Carrots- 1 cup cut into matchsticks-Good practice for knife skills
Corn – I used a cup of frozen organic sweet corn because that is what I had on hand. It was really good. But, if you have a fresh ear of corn, hurray!, use the kernels from one ear.
Sea salt
1 -2 teaspoons of tamari
Garnish of minced parsley or thinly sliced green onions
Oil -Optional: I sautéed the onion and carrots in a tiny bit of coconut oil but if you are avoiding oil, no problem. If the carrot and onion start to stick, just add a few drops of water or veggie broth.
Here we go!
Directions:
Soak the arame in water for a few minutes, and then drain it well.
Heat the oil in a skillet over medium heat. Add in the onions and a tiny pinch of sea salt and cook them until they start to soften.
Now add in your carrot matchsticks, another tiny pinch of sea salt and sauté for a minute or two.
You are ready for the soaked and drained arame. Carefully place the arame on top of the carrot and onion mixture. DO NOT STIR.
Add just enough water so that the water comes up just halfway to the veggies. Don't stir it.
Let it come to a boil then cover it with a lid and bring it down to a simmer. Let it simmer happily for about 10 minutes.
Now add in your corn and tamari. NOTE: Start off with just one teaspoon of tamari. You can taste it when it is almost done. If you need more tamari, you can add it then and let it simmer for another minute or two.
Once you add the corn and tamari, simmer for another 5-7 minutes. If there is a lot of liquid in the pan, you should remove the lid and let it simmer until most of the liquid is gone.
NOW YOU CAN STIR. Go ahead! You know you have been dying to give it a good stir.
Place in a beautiful serving dish and give it some garnish love. xx
"In the Raw " Creamy" Avocado Cuke Zucchini Soup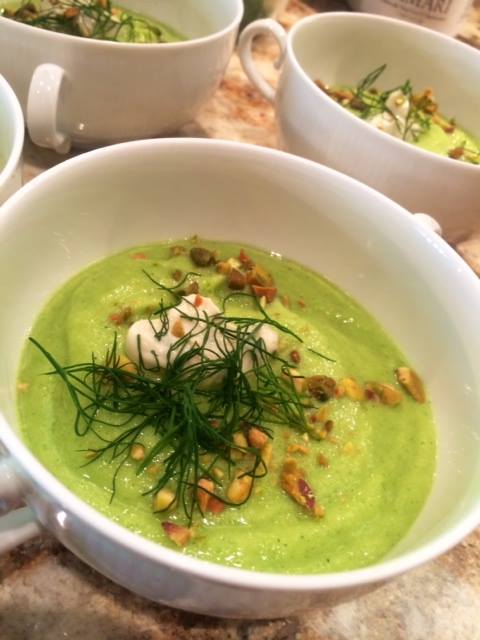 My uncooked soup is elegant and creamy and a snap to make!

Last week I was out running errands and had lunch at a local vegan cafe in Seattle and posted a photo of the delightful bowl of raw chilled soup that I enjoyed. It reminded me that I have a fabulous recipe for a refreshing and pretty soup of my own.
Make this soup now!
And because I am so happy to have you follow my page, I added two recipes for soup toppings. But the soup is terrific as is. Cheers!
Makes 4 servings
Ingredients:
2 cups of chopped zucchini (this equals about 2 medium zucchini)
2 celery stalks, chopped
1 organic cucumber (peel it or not if its organic. Non-organic? Peel it.)
2 tablespoons lemon juice
1-2 cloves of grated or minced garlic
1 avocado, remove the pit and skin
1 tablespoon white miso
Pinch of sea salt
Dash of cayenne or a bit of minced jalapeno
2 tablespoons of fresh minced dill
Some filtered water if soup needs to be thinned out.
Here's what you do:
In a blender, add the zucchini, celery, lemon juice, garlic, cayenne, salt, and water. Mix until smooth. Now, add the avocado and the dill and blend. Depending on the consistency, you may want to add a bit of water until you get the consistency that makes you happy. You can snip a bit of fresh dill over the top for garnish. If feeling fancy, chop some pistachios and sprinkle those over the top.
If you are thinking you would love to add a dollop of sour cream to this soup but are avoiding dairy and processed vegan sour cream, here is a vegan sour cream for you made from raw cashews.

Ingredients for vegan sour cream:
1 cup of raw unsalted cashews
1/2 cup of water (Pour in a bit at a time to get right consistency. You may not need or want all of the half cup)
1 tablespoons of apple cider vinegar
1 tablespoon of fresh lemon juice
A pinch of sea salt or to taste

Soak the raw cashews in water making sure the water completely covers the nuts by at least an inch. Soak the cashews for at least an hour.
After soaking, pour off the water and place cashews in a high-speed blender or food processor to grind nuts. Add in vinegar, lemon, and salt and a little of bit of water at a time until you get the consistency you prefer –this could be a few tablespoons to a half a cup. Chill in the fridge.
Here is another vegan sour cream that you might like to try:
4 tablespoons vegan mayonnaise (I really like Veganaise made with Grapeseed.)
1-tablespoon white miso paste
Optional: You could mix in some chopped chives.
Mix in a small bowl and refrigerate.